Comparing Two First-Class Sedans
If you are looking for a midsize sedan that offers plush comfort, unbeatable style, and performance you can count on in Harrisonburg, VA, you're probably comparing the Honda Accord vs. the Kia Optima.
The Optima is hands-down one of Kia's best-selling vehicles. With its robust fuel economy, available tech upgrades, and generous warranty, the Kia Optima is a solid choice. On the other side of the aisle, the Accord might as well be Honda's flagship sedan. It boasts incredible safety ratings, gorgeous styling, and superb reliability.
There are plenty of elements to consider when pitting the Honda Accord vs. the Kia Optima. While these are both fantastic sedans, the Honda Accord pulls ahead as an all-around superior vehicle that holds its value for years to come. When it's time to look for a new Accord, stop by Harrisonburg Honda, where we've put the fun back into car shopping. Our professional and caring staff will make sure you enjoy looking, learning, and leaving with a new Honda to take home.
The Best in Tech
Every year, both Honda and Kia raise the bar with the newest and best tech available on the road. You won't be disappointed by either manufacturer's offers. Both cars have options to add Apple CarPlay and Android Auto, as well as a large, touch-screen display and a ten-speaker stereo system.
While both cars will ensure that you're rolling with the latest and greatest tech, the Accord has upgrade options that just aren't available with the Optima: mobile hotspot, wireless phone charging, and satellite navigation, to name a few.
If you're unsure which upgrades will fit into your budget, find some time to talk with our financial team to learn more.
Protection When It Matters Most
It doesn't matter if you're on a solo mission or driving with a full crew of family and friends, keeping your passengers safe is a top priority. When comparing the Honda Accord vs. the Kia Optima, you'll find that both vehicles have incredible safety features, such as lane departure warning systems and rearview cameras. It's hard to compete with the Accord, however, especially with its smart airbag technology. That means your airbags deploy only in the necessary locations with the proper amount of force.
Stop by our showroom to learn about all of the newest safety features brought to you by Honda.

The Power to Get You There
You want a car that will get you where you're going. When looking at the Honda Accord vs. the Kia Optima, you'll see some major similarities and some major differences. The Kia Optima comes equipped with a 2.4-liter I4 engine but can be upgraded to a turbo 1.6-liter I4.
The Accord starts at a 1.5-liter turbo I4 and can be fitted with a 2.0-liter turbo. Both vehicles have similar amounts of horsepower and torque, but the Honda Accord has a better EPA-rated fuel economy rating and comes with a CVT transmission.
Harrisonburg Honda Gives Back
Here at Harrisonburg Honda, we want to give back to our brothers-in-arms. As a veteran-owned and operated dealership, we honor our colleagues to say, "thank you." US Military veterans receive 10% off service and parts, and we'll match all manufacturers' military incentives.
We also support causes that help our troops when they come home, like K-9s for Warriors, War Paints, and Project Healing Waters. When you shop at Harrisonburg Honda, you're not just supporting a family-run company; you're supporting our veterans. Stop by and see how you can help.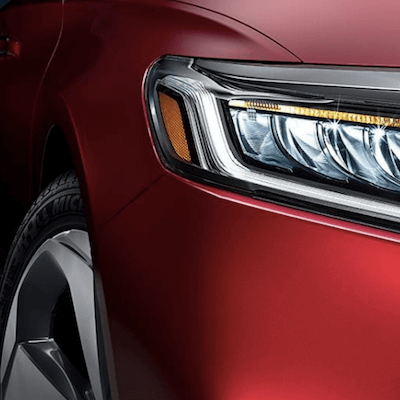 Get Much More in the Honda Accord
When you own a new Honda Accord, you're confident in every mile you spend behind the wheel; and because you know the quality and reliability of Honda, you know that means many, many miles. That confidence in what comes under the hood is matched with the confidence you need in the safety of you and your passengers. Ask the Harrisonburg Honda team of pros about the Honda Sensing suite of features to see how the Accord goes above and beyond to keep you and your family safe.