Size, Comfort, And Convenience In A Powerful SUV
The Honda Passport is another example of Honda's knack for engineering comfort, roominess, and convenience into a big, powerful vehicle. The Passport blends a zippy powertrain with abundant space for Strasburg, VA, area customers.
The Honda Passport's size in no way diminishes its pick-up and acceleration. It draws on a robust 280-hp, 3.5-liter V-6 engine that's always there when you need a burst of torque for take-off. The Passport undoubtedly satisfies when it comes to the size and power categories, which SUV drivers typically look for.
Go Where You Want
There's also an element of ruggedness to the Honda Passport's design, which makes it an excellent choice for Strasburg, VA, area drivers who like heading into the mountains from time to time. The front-wheel-drive model comes standard, but all-wheel drive is available.
The Passport also features up to 8.1 inches of ground clearance for the AWD (7.5 inches for front-wheel), so you can drive with confidence over tall grass, brush, and hilly terrain. If you like bringing bikes, ATVs, and other equipment on those weekend adventures, you'll be glad to know the Honda Passport can tow up to 5,000 pounds.
The Passport's stout suspension produces a pleasantly even ride off-road, and responsive handling lets you tackle the twists and turns with confidence.
Headroom And Baggage Space
Of course, power, handling, and ruggedness aren't much fun if you're experiencing it in a cramped interior without enough room for your head and kneecaps. Fortunately, the Honda Passport comes through with wide, comfy front seats and adjustable armrests.
There's no need to check the rearview mirror to make sure your passengers are comfortable. The Passport is spacious enough to accommodate five full-sized adults. There's also plenty of storage for your suitcases, 41 cubic feet to be exact, which expands to 78 cubic feet when the back row is folded down.

Award-Winning Safety Features
Honda typically does quite well in the safety category, which its track record among national safety organizations attests. The Honda Passport is no exception, having performed well in the National Highway Traffic Safety Administration's crash test.
Honda safety technology has added lane departure and blind-spot monitoring to the Passport. Other driver-assistance help-outs include automatic emergency braking, adaptive cruise control, and collision warning.
Efficiency And Mileage Performance
The Honda Passport's fuel efficiency falls within the general range of most SUVs in the mid-size class. If you're an all-wheel-drive type, at 19 MPG city and 24 highway, you won't get quite the mileage you will from the front-wheel model, which comes in at 20 city and 25 highway.
Of course, it's an acceptable trade-off for Passport drivers who want a vehicle that's fun to drive for recreation, as well as a reliable means of getting to and from work and bringing home the groceries.
A Peerless Customer Resource
As a regional dealership, Harrisonburg Honda has the inventory, experience, and expertise to help customers from the Strasburg, VA, area find a vehicle that suits their needs and fulfills their wish list. Our peerless selection and service is a by-product of the combined experience of our more than 150 employees.
If you're a veteran, Harrisonburg Honda is the dealership for you. Many of our employees have served in our country's military, and we honor that service by matching all manufacturers' military incentives. Stop by and let us put you in the right vehicle at the right price.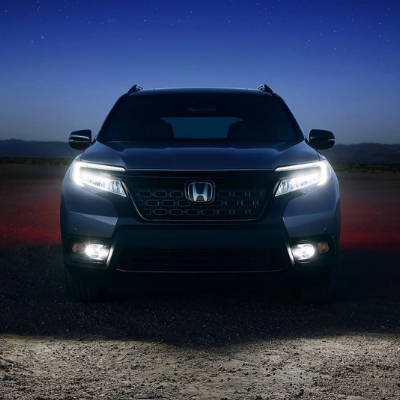 Get Much More in the Honda Passport
When you own a new Honda Model, you're confident in every mile you spend behind the wheel; and because you know the quality and reliability of Honda, you know that means many, many miles. That confidence in what comes under the hood is matched with the confidence you need in the safety of you and your passengers. Ask the Harrisonburg Honda team of pros about the Honda Sensing suite of features to see how the Passport goes above and beyond to keep you and your family safe.