The Only One-Size-Fits All Pickup
Those in Winchester, VA, who love Honda's record of dependability, fuel economy, and sophistication but need something with a truck bed are in luck. The Honda Ridgeline is available at Harrisonburg Honda. Stop by today.
Honda is already known for building some of the most sought-after and reliable vehicles on the road. It's no wonder that any Honda Ridgeline for sale in Winchester, VA, doesn't stay on the market for long. This four-door pickup is the only Honda that comes with a truck bed. If you're looking for the swiss-army-knife of all-wheel-drive trucks, check out a new Honda Ridgeline for sale near you today.
Your search for the perfect Honda pickup truck can start and stop right here at Harrisonburg Honda. Not only do we carry the largest selection of Hondas in the area, but we also go out of our way to ensure that every one of our customers feels valued. Stop by today and find a great deal on the new Honda Ridgeline.
Rugged Design Added To The Menu
While previous versions of the Honda Ridgeline had the modern style you'd expect from Honda, the newest model has a fresh design that gives it a beastly rugged appearance. With 18-inch wheels and all-terrain tires, you'll look like you're ready to handle any terrain.
Those who want their pickup trucks to stand out, check out the newest upgrade package that adds a sleek look with the following:
Black over-fenders
Blacked-out grille
Unique graphics on the bed walls
Eye-catching bronze wheels
Get a look at the most attractive Ridgeline yet when you visit our showroom.
Pleasant Surprise On Every Drive
Every trim and model of the Ridgeline pickup comes with a 3.5-liter V6 engine. This monster produces 280 hp and 262 lb-ft of torque. This engine, combined with a nine-speed automatic transmission, gives you a powertrain that offers responsive acceleration and a smooth drive.
Most trucks tend to use a leaf-spring, solid-axle rear suspension that gives them that truck feel. While this is fine for most pickups, the Honda decided to go a different route with the Ridgeline. This truck uses a coil-spring independent rear suspension that mimics the feeling of driving a car, but with the same support, you need from a pickup. That means you'll get the agile handling you expect from a car, but with the capability and size of a truck. Make sure to get a feel for how this pickup handles the road by scheduling a test drive right away.

Top Of The Line Tech
One of the areas that people are raving most about the newest version of the Ridgeline involves its tech. Start with an eight-inch touchscreen infotainment system that now has a few physical knobs and sharp on-screen icons.
You'll also enjoy an updated Display Audio system that features standard Apple CarPlay and Android Auto. You can even upgrade to an audio system that lives in the truck's bed. This system essentially turns your bed space into a giant speaker, which is sure to impress at your next tailgate appearance.
Our Team Lives To Serve You
Whether you're working with our sales team, service department, or finance group, we do everything we can to serve you better. Maybe that's why drivers from all over the region make Harrisonburg Honda their go-to spot for new and used Hondas.
The average team member has worked here for at least ten years. That means we have the experience and commitment you need to find a great deal on your next Honda.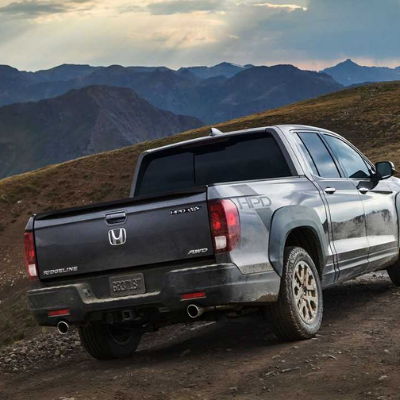 Get Much More in the Honda Ridgeline
When you own a new Honda Ridgeline, you're confident in every mile you spend behind the wheel; and because you know the quality and reliability of Honda, you know that means many, many miles. That confidence in what comes under the hood is matched with the confidence you need in the safety of you and your passengers. Ask the Harrisonburg Honda team of pros about the Honda Sensing suite of features to see how the Ridgeline goes above and beyond to keep you and your family safe.