A Pickup Truck For Every Driver
The Honda Ridgeline isn't just a pickup truck for people with loads to carry and trailers to tow around Woodstock, VA. It is also a high-performance ride for Harrisonburg Honda customers who want a reliable, practical vehicle to drive to work, school, and the store.
With plenty of conveniences and new features, the Ridgeline is an attractive buy for drivers who like having a vehicle they only occasionally need for heavy-duty reasons. A J.D. Power study found that 33 percent of all Honda Ridgeline drivers characterized themselves as "practical buyers," reflecting a mindset not typical of the off-roading type.
Pick-Up Power And More
Whatever you use it for, the Honda Ridgeline is a powerful vehicle worthy of its place in the mid-size pickup class. The Ridgeline is a front-wheel-drive beast with a 280-hp, 3.5-liter V-6 engine capable of towing up to 5,000 pounds and carrying loads up to 1,600 pounds.
Recent upgrades that are now standard, such as Honda Sensing's driving assistance package, make the Ridgeline fun to drive and easy to handle, despite all that power. A nine-speed automatic transmission and optional all-wheel-drive combine for a smooth, even ride over variable terrain.
Top-Line Tech
The Honda Ridgeline offers truck lovers and "practical" drivers alike a pleasing tech menu and features designed to make the Ridgeline a comfortable and convenient ride for discerning customers. An 8-inch touchscreen puts a user-friendly infotainment system within easy reach via Android Auto and Apple CarPlay.
The more you can do with the touch of a button and voice commands, the better the driver experience. That's why the Honda Ridgeline comes with an impressive slate of convenient features, including a remote locking tailgate, adaptive cruise control, active lane control, heated front seats and steering wheel, a power sunroof, and a voice recognition system.

Storage Space For Everyone's Baggage
A Honda Ridgeline from Harrison Honda will satisfy your most ambitious storage requirements, whether you plan to do some hauling or just like having plenty of space. You'll find nooks and pockets in the doors and between the seats that put everyday objects within easy reach. You also get a 33.9-cubic-foot cargo bed and plentiful storage under the rear seats.
The truck bed converts into a spacious entertainment area for outdoor partying, with a drop-down tailgate that can open to maximize space and provide easy access. However, you plan to utilize the Honda Ridgeline, rest assured that storage won't be a problem.
Roomy Interior for Five
The Honda Ridgeline's cab has been expanded, with a higher roof and lowered floor providing more than enough head and legroom for five tall adults. Supple leather seating means impressive comfort and back support whether you're going across town or cross country.
According to Car Connection, the Ridgeline is one of the roomiest, most comfortable entrants in the mid-size pickup class. That's another good reason for Woodstock, Virginia-area customers to visit Harrisburg Honda and see for themselves just how accommodating this remarkably versatile pickup truck can be.
Meet The Dream Team
Harrisonburg Honda is proud to be a family-owned dealership with more than 150 employees, including sales consultants, technicians, and finance experts, all part of the Harrisonburg Honda dream team. We're proud that our owner and many of our staff are veterans, and we're equally pleased to match all manufacturers' military veteran incentives.
If you're in the market for a new or used vehicle in the greater Woodstock, VA, area, stop by Harrisonburg Honda and see how our dream team can help you find a truck or other vehicle that suits your needs and your budget. We look forward to welcoming you to our family!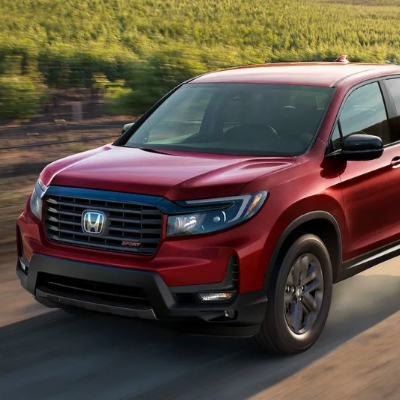 Get Much More in the Honda Ridgeline
When you own a new Honda Ridgeline, you're confident in every mile you spend behind the wheel; and because you know the quality and reliability of Honda, you know that means many, many miles. That confidence in what comes under the hood is matched with the confidence you need in the safety of you and your passengers. Ask the Harrisonburg Honda team of pros about the Honda Sensing suite of features to see how the Ridgeline goes above and beyond to keep you and your family safe.