Make Summer Great Again with a New Honda in Your Driveway TODAY!
Summertime is finally here, so it's time to get back in gear with good tunes, great food, and a new Honda Civic, Accord, or CR-V from Harrisonburg Honda.
We're kicking off this summer the right way! Are you ready for some HOT deals on your favorite Honda wheels? We're ready to show you the savings and get you behind the wheel of your favorite model from our incredible selection of New Honda Vehicles. What are you waiting for? Your new Honda is right down the road!
Summer Fun Done Right
Summer should always start with a bang, so we're doing it right with a proper summer kickoff party featuring great friends, incredible eats, and of course, awesome tunes! Garage Jam 2018 is going to be the party that you won't want to miss! Get your entire crew together and enjoy some of the best live music around, with bands like The Seven Bends, Thieves Of Burden, Iron Lion World, and Who Shot John!
While you're in the musical groove, you can also grub on some amazing eats and treats like the real Philly flavor of our own Urgie's Cheesesteaks and refreshing offerings from Tropical Smoothie Café; or enjoy some authentic south-of-the-border goodies from Magnolia's Tacos and Tequila Bar. Our advice? Come hungry!
Garage Jam 2018 is a FREE event for the entire community to enjoy; however, we will gladly accept donations for some very worthwhile causes. All concert proceeds will go to benefit K9s For Warriors and The Specialist Trevor Banks Foundation.
As a Veteran-owned and operated family business, we believe in supporting the real American heroes out there. With Memorial Day on the horizon, this event is a fantastic way to show your support for our brave vets and to recognize our fallen, but never forgotten brothers, sisters, sons, and daughters. We honor their sacrifice with our whole hearts each and every day. Join us in raising awareness and funds that are so badly needed to help them and their families. All you have to do is show up and soak in the atmosphere of freedom and Americana that they fought so hard to preserve. Let's celebrate them, our wonderful community, and the start of a fun-filled summer season, right here at Harrisonburg Honda!
Come for the Celebration – Stay for the Cars
While you're soaking up all the summer fun you possibly can, you might also run into some unbeatable deals on a smooth new Honda Civic or Accord sedan; or on the very versatile new Honda CR-V. Our team of Honda experts will be at your disposal. We'd love to get your summer started off right by hooking you up and watching you cruise away in your favorite new Honda!


Sleek, stylish, and smart, the new Honda Civic is ready to impress. This small sedan packs a ton of incredible features and extras into one exciting and efficient package. The new Honda Civic is easy on the eyes and on the wallet! What's not to love? Test-drive your favorite model and color right here, and take advantage of the sweet summer savings throughout the entire month of May! You'll be cruising the streets and turning heads in your new Honda Civic before you know it.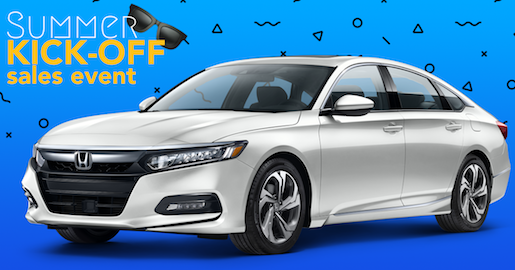 The new Honda Accord is the incredible, iconic sedan that has something for everyone to love. Did you know that the Accord has been named Car & Driver's 10 Best a record 10 TIMES? Now, that's pretty impressive! The newest Accord was also named the 2018 North American Car of the Year. As if those aren't enough reasons to take a hard look at the new Honda Accord, there's more. This newest incarnation is, without a doubt, the most impressive Honda vehicle EVER. Get behind the wheel of the new Accord at Harrisonburg Honda and savor the good looks and the fantastic performance every mile down the road.

Meet the new gold standard in the world of crossover SUVs. The incredible new Honda CR-V has devoted fans all over the country. It's no surprise that the newest CR-V was named 2018 Motor Trend SUV of the Year. Its distinctive, updated style is hard to miss and it's pure innovation and smart design clearly raises the bar on the competition. Try as you might, you just won't find a more total-package small SUV than the new CR-V from Harrisonburg Honda. We suggest that you take a test drive so that you can get to know your new CR-V both inside and out. You're going to love this ride!
Harrisonburg Honda: Giving You MORE!
At Harrisonburg Honda, we're much more than just a car dealership; we're part of this community. Our focus is and has always been on YOU. We don't sell cars; we take care of people. We are here to help our friends get exactly what they need and what they want in their new or pre-owned vehicle. We believe in what we do, and we can't wait to show you the Harrisonburg difference firsthand. You're going to like it here – we'll make sure of it!
If you're ready for the summer fun to begin, come on over to partake in the Garage Jam 2018 festivities and support some more than worthwhile causes; as well as our wonderful community! It's all happening at the end of May, right here at Harrisonburg Honda. We'll see you there!