The Best Savings Are Yet To Come
Take that next family road trip or tackle your Harrisonburg, VA, commute in style by exploring a used Honda CR-V available at Harrisonburg Honda.
The Honda CR-V is one of the most popular small four-door SUVs on the road today. With a gas-sipping engine, eye-catching style, and the dependability you've learned to expect from a Honda SUV, the FWD/AWD CR-V continues to top wish lists and internet searches across the country.
When you're ready to explore the massive cabin or available features on a new or used Honda CR-V, stop by Harrisonburg Honda. Our sales advisors are focused on helping your find the right vehicle for your needs without the hassle you might find elsewhere. Whether you're ready to grab a used Honda CR-V for sale or just want to start your search, let Harrisonburg Honda be your guide.
Drive A CR-V Home Today
There are many reasons why the CRV is one of the most sought-after small SUVs on the market. Under the hood, you'll find powerful engines, including turbocharged options and even a hybrid model.
Beyond having all of the muscle you could want from a small SUV, the CR-V is a sight to behold. Honda made sure to create a design that not only looks great now but will also hold up for the years to come. So you won't have to worry about driving something that's no longer in style.
Overall, you'll find that the CR-V is a reliable and dependable SUV, precisely what you'd expect from one of the world's most prominent auto manufacturers. So don't just read about this amazing piece of work. Instead, schedule a test drive and see why everyone dreams of owning a CR-V.
The Choice Belongs To You
Finding the perfect Honda CR-V for sale in Harrisonburg, VA, is easier than ever, thanks to our massive collection of used Honda CR-V options. So whether you're looking for an AWD option, a turbocharged engine configuration, or even a top-of-the-line Touring model, we have you covered.
Start your search right on our website. You can browse the features that matter most to you. You can even filter by price to find that perfect SUV that fits your budget. Once you find something that catches your eye, stop by our showroom to get a more personalized look.

Savings Galore
With an SUV this amazing, it's tempting to go all out and shop for a brand new Honda. But, of course, no one will tell you that a fresh CR-V isn't worth the money, but you can also get this high-quality automobile for pennies on the dollar when you buy used.
With Honda's reliability and dependability scores, there's no reason to question if your CR-V will keep on trucking. On top of the incredible savings you find on the sticker price alone, a used Honda CR-V will help you save on taxes, insurance, and more. That's not even mentioning how much money you'll keep by making fewer stops for gas.
Join The Harrisonburg Honda Family
When you shop with Harrisonburg Honda, you're more than just a customer. We view you as part of the family. That means you get access to the best deals, lowest prices, and ultimate customer service experiences around.
Talk to our staff, and you'll see just what being part of the family looks like. We have over 150 members of our team who have been with us for an average of ten or more years. That's because we treat people right and go out of our way for our family. So stop by and join the Harrisonburg Honda clan today.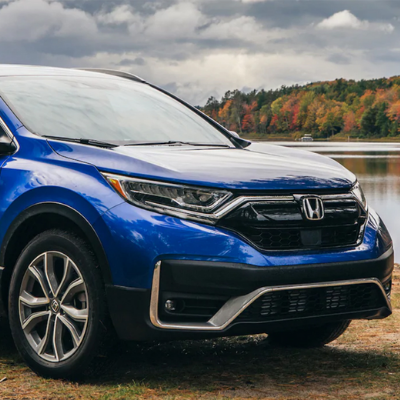 Get Much More in the Honda CR-V
When you own a Honda CR-V, you're confident in every mile you spend behind the wheel; and because you know the quality and reliability of Honda, you know that means many, many miles. That confidence in what comes under the hood is matched with the confidence you need in the safety of you and your passengers. Ask the Harrisonburg Honda team of pros about the Honda Sensing suite of features to see how the CR-V goes above and beyond to keep you and your family safe.