Harrisonburg Honda Wants Your car!
When it's time to trade in your vehicle, or sell it outright, head to Harrisonburg Honda – Trade-in and trade-up to a newer model, with more features for as much as or even less than you were paying before!
We pay top dollar for your trade-in - Even if you don't buy from us!
We will take your lease - Even if you didn't lease from us!
Get into a new vehicle with the same or lower payments (with approved credit)
Take advantage of all-time low interest rates!
Upgrade to more standard tech features for the same monthly payment! (with approved credit)
We Pay Top-Dollar For Your Trade-In - Even If You Don't Buy From Us!
Why go through a long, drawn-out process to sell or trade-in your car? Avoid the hassle and the haggling that comes with private sales and some other car dealers. The Harrisonburg Honda team will make it as easy as 1-2-3. We'll buy your car for top dollar even if you don't buy from us!
It doesn't get any easier than this. All you have to do is fill out the online trade-in form, bring your vehicle in for an appraisal, and walk away with cash in your pocket.
We'll Take Your Honda Lease & Help You Get A Low-Mileage Lease
Is it time to turn in your Honda lease vehicle? We will take it off your hands even if you didn't lease it from our dealership. Let us take care of your leased vehicle and help you get into a new Honda vehicle for as much as your current payment or even less with approved credit. Who doesn't love to save? It doesn't get better than that, and we make it easy!
Are you currently working from home? A lease may be the perfect option for you! If you are working from home and only drive limited miles to run small errands, you can trade-in your vehicle and opt for a low mileage lease with an even more affordable monthly payment!
Ready To Trade-In & Trade-Up?
If you are ready to trade-up your vehicle, we are ready to help! We will buy your car and help you get into a new car today! Take advantage of all-time low interest rates and get into a new vehicle with a similar payment with approved credit. We can even help you roll over your negative equity!
Talk to our team and drive home in the new Honda vehicle of your dreams today. You'll be the envy of the neighborhood.
Don't Waste Time
Your time is money. Don't waste it waiting around a car lot – all for a below-average offer. Our team is always ready for you when you need us, and our simplified appraisal tool will ensure a fast, top-dollar offer for your vehicle. Our Trade Pending True Market Value appraisal tool is quick, easy, and accurate.
So, the choice is simple. If you want to save time and gain money, get to Harrisonburg Honda today!
If you're looking for your next car, you'll always get more for your trade-in at Harrisonburg Honda. In fact, you can trade-in and trade up to a newer model with better tech, a warranty, and more – all for a similar amount to your current monthly payment.
When you trade-in and trade-up to a new Honda, you get a plethora of new tech features, many of which weren't available just five years ago. Many vehicles offer Apple CarPlay, Android Auto, heated seats, and the Honda Safety Suite standard.
You can have it all – and it all happens when you come to Harrisonburg Honda! Get started online now, or contact our dedicated team directly.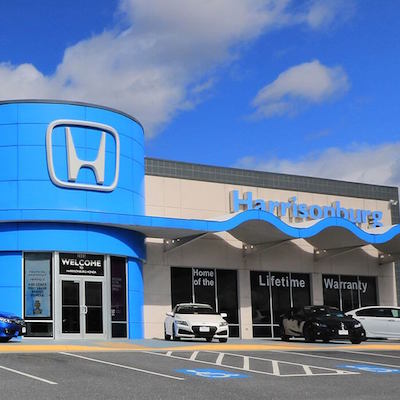 Get Much More at Harrisonburg Honda
The Harrisonburg Honda team is dedicated to your total satisfaction and ready to take your expectations to a new level. Whether you come to us for car shopping, service, or to sell us your car, you can count on a fantastic experience that will keep you coming back to us for all your automotive needs.
There are so many ways we can make an ideal first impression on you. When you're ready to see the Harrisonburg difference, get started online now, and then stop in to let us take care of the rest.